Hey, Rosalyn here. This week we are releasing the full interview with Christopher Gibbons, who shared part of his story with us at Business Uncensored 2021. His story is truly humbling, remarkable, and inspiring. But he also gives some GREAT advice for service technicians. Below are some of his tips to make the most out of each service call!
Congratulations to Christopher Gibbons, Electrician at Mr. Electric of Knoxville and the Tri-Cities (and our keynote speaker at the most recent Business Uncensored Conference), for reaching Top Gun status!  Top Gun status means that Christopher has been in the top tier of lead sales technicians for more than three months consecutively for the entire Mr. Electric Franchise.  He was also the known lead for metal sales out of all of the technicians that use The New Flat Rate last month.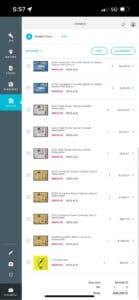 What's one of Christopher's secret weapons for his high service tickets?  Showing multiple pages on a single call (check out the picture of one of his recent invoices).  Many technicians are inclined to try to bundle and discount services with the more they add to the bundle, and others are inclined to just try to "level up" on one page and charge a little more for one repair to group in an additional repair.  However, your customers do not buy everything else this way!  When you go to Walmart, you don't get a discount for buying paper towels and toilet paper—you pay full price for both!  There is no reason for you to feel like you need to give discounts for the more your customers "add to the cart," because you still have to do the full repair regardless. In addition, just "leveling up" and including another repair can be risky for your company.  
What if you have a shower drain leaking into the basement ceiling, and just outside the house, you have a spigot leaking and your technician decides to just show the shower page, level up, and then throw in the leaky spigot?  No harm, no foul, right?  It sounds great—until your customer chooses, let's just say, a gold repair for that leaky shower drain.  Your technician has to do "gold" level work on the shower drain like the customer picked, but they are just throwing in the quick fix, Band-Aid level repair for that leaky spigot since "leveling up" gave them just enough money to do that.  That doesn't sound so bad…that is, until 7 months from now, when that spigot starts to leak again, and your customer thinks a warranty covers it.  In their mind, they chose the gold, and they have an 8-month warranty.  But your technician didn't do gold work on the spigot, did they?  They did a Band-Aid, 30-day warranty job.  So now your company feels obligated to spend the money to send the technician out on a free warranty call when the warranty was really on the other repair. What a liability! I'm sure you can think of other problems that might accompany this scenario.
Another risk is that you're taking away your customer's right to choose off the menu and be completely satisfied with the job.  Maybe your customer wanted and would have chosen a Platinum level repair for that shower AND for the leaky spigot because they just read an article on how low Lake Mead is, and they're currently obsessed with water conservation.  Don't take away your customer's right to choose their level of service; leave your mother in the truck.  You don't know your customer's finances or their brain.  When you only "level up" and then throw a repair in, you are denying them the ability to have a say in what service is done.  Additionally, a level up difference for one repair does not necessarily equal the price of an additional repair, so not only are you leaving money (and customer satisfaction) on the table, but you might very well be losing money.
Deciding how to divide the pages can seem intimidating, but the easiest way is to start by area, room, circuit, or fixture.  As your customer walks you through their laundry list of repairs, they also walk you from room to room in their home.  In the living room is the ceiling fan they want to be replaced.  In the dining room is the new, decorative light fixture they want to be installed.  In the hallway is the light switch that won't work.  On the deck is where they want an outdoor light with a motion sensor and smart controls installed.  Each new room is automatically a new page.  You might have several issues in the same room for plumbing work, such as a shower issue, a toilet issue, and a sink issue.  Each of these fixtures is automatically a new page, though found in the same room.
There will be more than one page if you are doing multidisciplinary work, even when the repairs are in the same area.  For example, you may need to show a water heater page from the Plumbing module along with a furnace page from the HVAC module; even though they are in the same area, two pages would be shown in this circumstance.  
For electrical work, showing pages may depend on the age and wiring of the home, so consider the circuits.  In an older home, all the outlets may be on one circuit, which will just require one page.  There are often more receptacles in newer homes with different types of lights, etc.  In this case, split the room horizontally, and then show a page per circuit.  When in doubt, you can always call Tech Support at (762)201-9076.
But won't my customer get overwhelmed?  Your customer just walked you room to room in their home and showed you each problem clearly and calmly without curling up into the fetal position as they explained it to you.  In their head, the problems are already divided up by area or system anyway, as that's how they presented the problem to you, so showing them a page per issue will not be a foreign concept for how their brain processes the information.  Still nervous? Walk to the garbage disposal as they show their waste grinding system page.  Walk with them to the leaky spigot as you show that page.  You can physically change locations with your customer to reset their brain for each page you introduce.  This allows them to select the level of service they want on each repair, and then regroup to see their totals in the "checkout cart" and modify for their budget, if need be, once all is said and done.
Remember that there are required repairs and recommended repairs.  The "required" repairs are repair pages for anything your customer specifically told you about.  You MUST show your customer options for any of these repairs.  Recommended repairs are anything the technician found during their diagnostic time.  These can be discussed, and they might end up being a priority to your customer as they analyze, but you should not show a "recommended" repair instead of a required repair because you think it is more important; you can only add a page and express your concerns.  As for accessories and upgrades, we find that talking about most of these after the main job is partway done works best, as it shows your customer you are going to solve their concerns and not just try to sell them something.
Christopher gave one piece of advice for the techs out there—own the call within the first two minutes from the second the door opens.  "I say what I need to say, and then stay quiet and study them, their emotions, their body language, their tone of voice.  Once I collect data on who they are, I change my personality to match theirs, so we become personal.  If you own the call in the first two minutes, it doesn't matter what happens next because they are no longer talking to a sales rep." 
SHOW NOTES:
Beginning of Christopher's Story [00:45]
Someone is always watching over us [04:32]
Christopher's first electrical job [06:09]
Life-changing ride [10:05]
Books in a hospital bed [23:12]
Never say "I can't" or "I won't" [30:59]