2020 was to be the year of awesome. The year of strategic growth, scaling up and really making it happen. I (Danielle) was hiring new directors, growing my team, changing management styles and pouring funds, resources and ideas into our product so we could reach and support more contractors. Then out of nowhere it seemed the world came to a screeching halt.
I know I'm not alone; the Covid-19 crisis came out of left field for most of us. But it's not time to change our year of awesome into a year of, 'What the?!' But instead, our awesome simply needs to be re-assessed, adjusted, and our teams need to be front and center knowing they are safe, secure and supported.  
Here we are.  The "what if" scenario is in front of us.
As leaders we need to be prepared so that we show confidence and leadership to our teams.
Now more than ever facts must drive our decisions.
And that's why I'm working with my friend Dominic Rubino and here is the plan he has laid out to share with us on how to best manage our teams during this crisis.
From Dominic Rubino:
Crisis management is about communication. (See the green circle below) (1)
Controlling that communication is the key to keeping everyone calm and focused.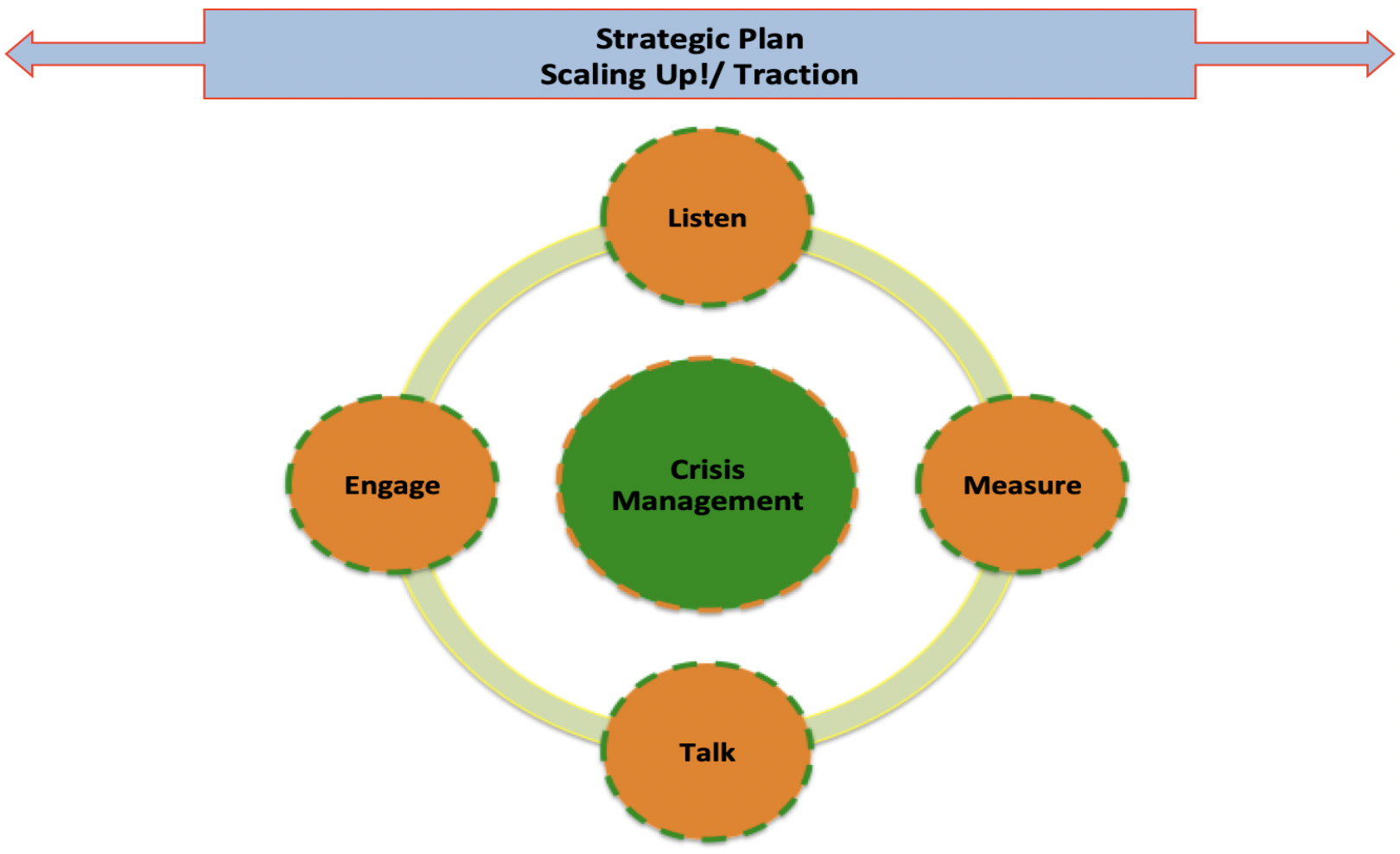 (Ref: Springer 1, 3)
Listen (see orange circle above)
All of your team will have questions. Get in front of them as quickly as you can.
Depending on the size of your company you might need to have an "all company meeting."
This can be quickly set up on Skype if you have people working remotely. Contact us if we can help you set up a conference call using Zoom.
Not only do the people in your company have questions, they want to know that they are being heard.  Create an easy way for people to get their questions to you so that you can answer them.
Ideas for Listening to your team
Set up question boxes in your shop and check them daily.
Hold a meeting. Put up a whiteboard and ask each person one by one to call out their questions.
Walk the shop floor. Now is not the time to stay in your office. Talk to people individually.
When people are asking you questions remain calm and let them get the whole question out. Once they are done it's helpful if you repeat the question back.
Here's an example of what I mean.  Tony stops you in the hallway to ask a question.
Tony- ..What are going to do if sales drop off and people don't want us in their houses ?
You- "…Thanks Tony- so your question is how are we gong to keep on selling new jobs if people don't want us in their houses?"
Measure (see orange circle above)
Measurement means a few different things right now.
Facts are facts.
First- now is the time to rely on the strategic plan you built for the company.  If you have one – in this strategic plan you would have laid out your critical numbers, flowcharts and types of meetings that need to be held with your team. (Danielle) If you do not have a strategic plan, now is not the time to beat yourself up! But it would be a good time to start with a strategic 'crisis' plan such as how to address safety, what financial numbers must be met daily to stay in business, and order of command.
Second- as business owners we need to take the lead and make sure that we are getting our information from credible sources. Facebook, Instagram,  and "my friend told me" are not credible sources!  Establish which media outlets you trust the most, and refer back to them. For an example, this is Forbes list of trusted media outlets. 
I would suggest that you publicize these trusted outlets with your team as well- this way, your team will know where you are looking.
Talk (see orange circle above)
Yes, I know that some of you reading this already think you have too many meetings.  (read my article in Forbes on this subject (Dominic)) In a time of crisis like this, those meetings are not for you – they're for your team.
Your team is going to be getting information from somewhere.  If it doesn't come from you they will find it from other sources.  Or, left without direction,  the loudest , most convincing voices will win out over fact-based points of view.
Tips for talking to your team (and still getting work done)
Get ahead of "talking",  so that you aren't caught by surprise.  Tell your team to expect an update from you at a pre-set time.
I (Dominic) spoke with a business owner just this morning and we put the following communications schedule in place with his company.
Daily
9 AM daily-  He will update the team on the latest information. His primary source of information will be at this web adress
2 PM daily- He will update the team on the latest information. His primary source of information will be the CDC at this web address
If you are feeling ill. Send a text message to 'NAME' by 7 AM. Otherwise we're looking forward to seeing you here!
Weekly
The Toolbox talk/Safety meeting will be held at our regular time (8 AM ) for the duration of this quarantine.
The Huddle and Dashboard will be held at our regular time (10 AM Tues/Thur) in the training room for the duration of this quarantine.
Floor walks- I will be walking the floor daily. If you have questions, let's discuss when I come by your station.
Sunday nights at 6- He will update the team on the latest information. His primary source of information will be the CDC at this web adress. 
Engage (see orange circle above)
What this means is to slow down, really talk, really listen and don't try to "Baffle with BS".
Your team needs you now. Think about how they and their families will talk about your company after all of this blows over.  Because it will blow over.
Do you want them to say "Our boss is a good guy.  We were kept informed and I felt confident that he knew what he was doing every step of the way."
OR
Do you want them to say "…it was really stressful I didn't know from day to day what was going to happen.  I was worried I might lose my house.  My wife was asking me questions I just couldn't answer.  I wish he had just been straight with me."
Conclusion –
Now is not the time to do this alone. If you need help, get in touch with one of us now. We'll put together a plan that works for you and your team.
Thanks,
Dom and Danielle
Contact:
Danielle Putnam, The New Flat Rate
706-259-8892
Dominic Rubino, Profit Tool Belt
Websites
Podcasts