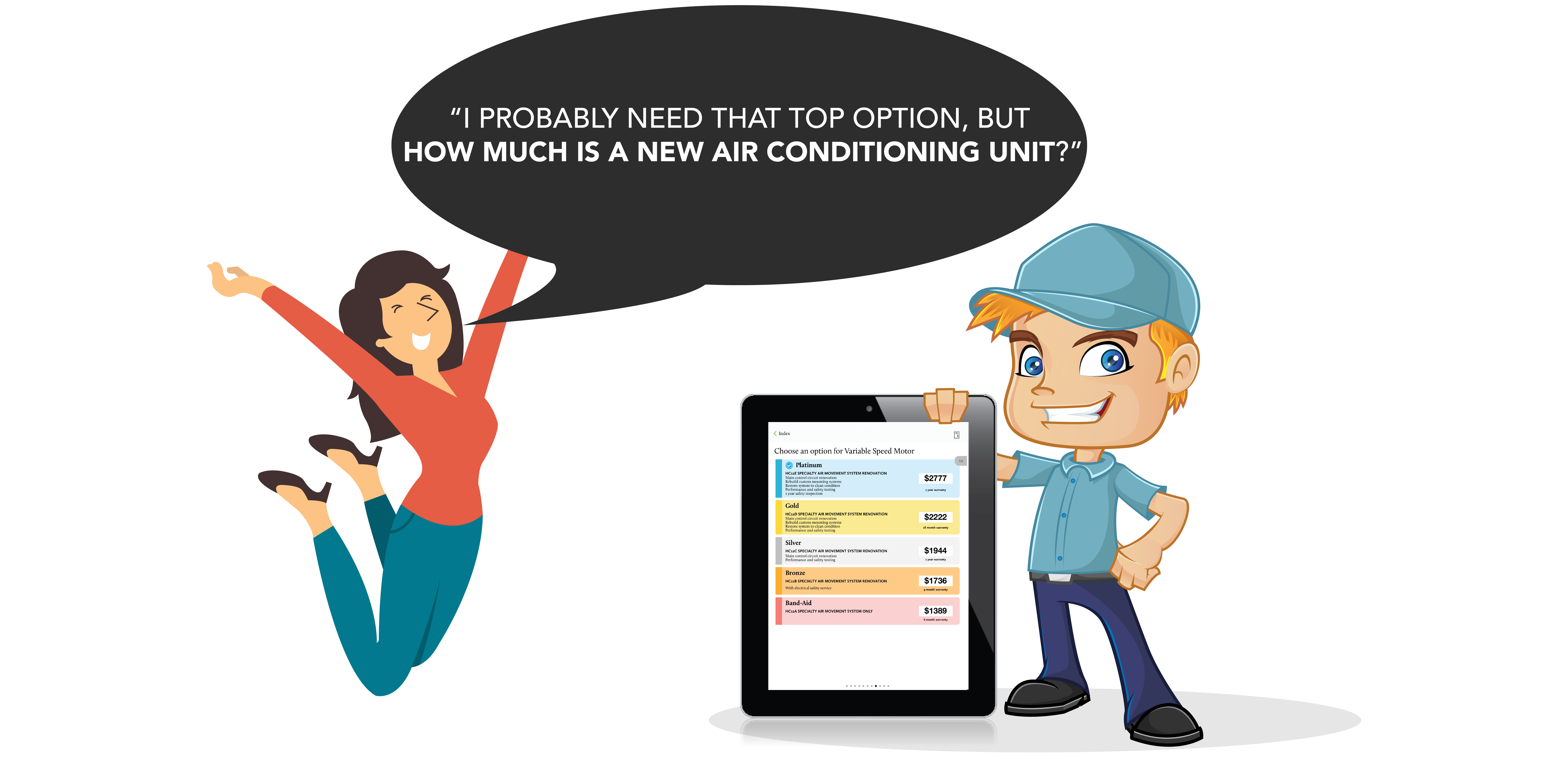 Selling new equipment such as water heaters, hvac systems, or whole house generators becomes as simple for your customer as choosing a new refrigerator from an appliance store.
Your customer will ask about new equipment before your technician even mentions it. With The New Flat Rate, equipment menus are available for HVAC, Plumbing, and Electrical!
S.O.S – The key to HVAC equipment sales on the spot!
The HVAC Equipment Sales System is called S.O.S. for Selling on the Spot. We call it that because Equipment Replacement is an option every home owner deserves, and HVAC Contractors are searching for competitive and consistent ways to provide estimates, quotes and replacement options.
Our cloud-based HVAC Equipment Replacement app is easy to use, interactive and customizable. This Equipment Replacement Pricing Tool comes completely setup and done for you. Consequently, you can now begin pricing HVAC Equipment Replacement right away.
How to have a 100% close rate…
The New Flat Rate trains on what we call the 100% close rate. When HVAC technicians are in a customer's home, we train for a 100% close on either securing the repair today or providing a replacement option that is accepted. Whether the customer chooses to repair or replace the HVAC Equipment, contractors should be equipped with the solutions to provide the customers a choice. When we walk away with a diagnostic only or a zero-dollar invoice, that is holding us back from the 100% close rate.
When an HVAC technician presents a flat rate price to a customer, the HVAC Equipment Sales system was designed to look for that golden question, "Well instead of spending x amount on a repair today, how much to just replace the system?"
5 price points for replacement = No more shopping for quotes!
Using The New Flat Rate Equipment Sales System…The technician or comfort advisor, sales representative, owner or helper can quickly present a menu pricing page. This provides five price points for a replacement option right then and there on the spot.
Customers no longer need to quote around town for other options. With HVAC Equipment Menu Pricing, they can simply choose the level that best fits their budget, creating a win-win.
The Equipment Menu's are done for you HVAC Replacement options that can be used instantly or customized. Increase your average replacement value instantly by providing choices.